Open H.O.F. August 2016
20. August 2016

Wunderbares Wochenende im Waldviertel
5. September 2016
MITANANDA Kimchi Project
The fermentation hype has reached us at MITANANDA H.O.F. at full force. Franziska from
purelypacha.com
has lead us right into the eye of the storm with her love of Kimchi and all things fermented like her delicious sourdough breads and cakes and all varieties of tasty fermented veggies. So far we have tried pickled carrots and the famous hot-spicey-savoury-flavoury potpourri of crunchy raw veggies in a jar, aka Kimchi. We decided to make a vegan version without fish sauce and are happy to officially present to you our first recipe on our brand new page. This recipe makes about four one liter jars of healthy delight, feel free to double or triple the amount of ingredients, I promise you it won't go bad - it is rather addictive (if you are fond of spicy foods)!
Vegetables
Two large heads of Napa cabbage (Chinakohl) 0,75kg of carrots 0,75kg of daikon radish (weißer Rettich)
Marinade
125g of ginger root 125g of fresh red chili peppers 125g peeled garlic cloves 2Tbsp whole, unrefined cane sugar (if available) 4Tbsp of sea salt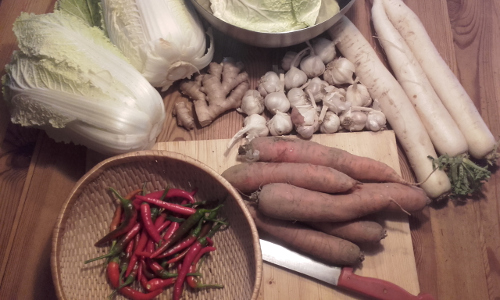 1. Prepare enough jars for the amount of vegetables you have. Clean them thoroughly and boil jars and lids in a big pot for at least six minutes. Niko says cleanliness is key!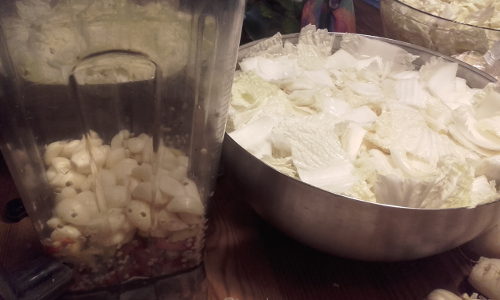 2. Cut the cabbage in chunks of about 4x4cm, place it in a large bowl, cover it with warm (not hot) water and sprinkle it with 3Tbsp of the salt. Stir until salt dissolves and let sit for about half an hour. Keep the outer leaves to cover the Kimchi in each of the jars.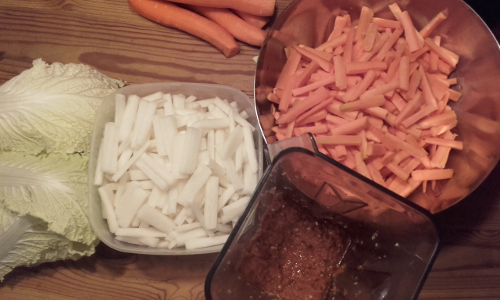 3. Meanwhile you can clean, chop and process the chili, the ginger and the garlic to prepare the marinade. Chop all ingredients, put in blender/food processor, add leftover salt and sugar and blend until a smooth, creamy consistency is reached. 4. Peel the carrots and the radish if necessary (in case they are not organic or really dirty) and cut them into finger-length sticks. 5. Drain the cabbage and pat dry.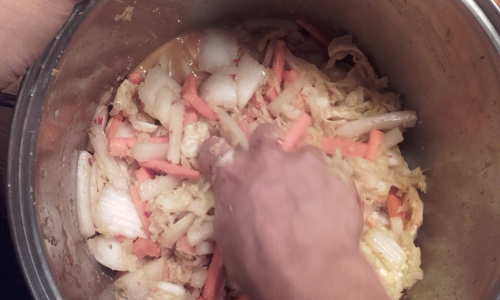 6. Put all the veggies in a big bowl, add the marinade and start mixing and pounding the mix either by hand or with a wooden spoon until all their juice is released. This might take some time and effort, but is very important to start the fermenting process. 7. Fill the veggie-marinade mix in the clean jars and cover with the cabbage leaves you kept one for each jar.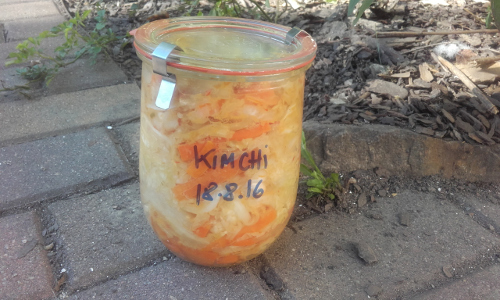 8. Let your Kimchi work it`s magic for at least one week before trying it. Cover and ferment it at room temperature and make sure to check on it regularly, it might spill over. 9. Your Kimchi will turn more and more sour. To stop the fermenting process place it in refrigerator. It will keep up to half a year.
What is it and why fermenting?
Kimchi is a traditional dish in Korea, which is served at almost every meal. There are various ways of how to prepare Kimchi and which ingredients are used. There is also fresh and winter Kimchi, which is traditionally stored in big ceramic jars. Not very different from the European Sauerkraut Kimchi contains lots of important and healthy vitamins, minerals and fiber, thus aiding digestion and serving as a nutritious winter treat when fresh vegetables and greens are scarce. In the fermenting process lactic acid is produced which acts antibacterial – the spicy ingredients naturally support this to turn Kimchi in a very effectice cold remedy. So this is why Kimchi is in more than one sense HOT, HOT, HOT! ENJOY! <3